Description
A continuous cast (UNS-C95900) aluminum-iron-copper alloy recommended for heavier-duty applications involving compressive wear and high abrasion, especially where no impact is present.
Uses include: die rings, forming rolls, inserts, wiping blocks, cam followers, pilot bushings, dies and drill jig bushings. Also, offers proven performance in plastic mold applications - ejector sleeves and bushings, guide pin and leader pin bushings, wear plates, gibs.
MoldStar®21 alloy will maintain mechanical properties at temperatures up to 6000F and has a machinability rating of 20%. The alloy provides corrosion resistance to non-oxidizing mineral acids. Can be welded with both gas-shielded and shielded metal-arc processes. Brazing, soldering and oxyfuel gas welding are not recommended.
Cold working is not recommended. Hot formability is good with a forgeability rating of 75%. MoldStar®21 alloy can be hot worked at temperatures from 13750 to 15500F and annealed between 11000 and 12000F.
The consistent superiority of MoldStar®21 alloy over commercial bronze is due, in large part, to the unique distribution of the alloy microstructure.
Chemistry
| | |
| --- | --- |
| Copper | 83% |
| Aluminum | 13% |
| Iron | 4% |
Specifications
CDA C62500, C95900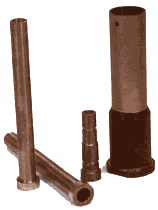 Mechanical Properties
(based on 1" test bars)
Tensile Strength (ksi)
110+
Yield Strength (ksi)
60+
Elongation, % in 2"
.1+
Hardness- Rockwell C
29
Ultimate in Compression (ksi)
175
Proportional Limit (ksi)
34+
Impact - Charpy Keyhole (ft-lbs)
2
Izod (ft-lbs)
2
Modulus of Elasticity (tension), (ksi)
15,000
Poissan's Ratio
.312

*Properties are shown for comparative information only
Physical Properties*
Density (lbs/in3)
.260
Specific Gravity
7.21
Specific Heat
(Btu/lb 0F)
.09
Coefficient of Thermal Expansion
(in/in/0F)
9.0 x 10-6
Electrical Conductivity
(% IACS)
10
Electrical Resistivity (Microhms-Meter @ 680F)
172
Thermal Conductivity
(Btu/sq. ft./ft./hr./0F @ 680F)
22.5
Magnetic Permeability
1